WARNING: HUGE 4 YEAR UPDATE…VERY LONG
I have not been keeping up with the updates for this tread since the last post so I will try to bring you up to speed for the last 4 years.
It looks like I left off after installing the T56, so I will start there.
2013 Season:
After installing the T56, I got 1 season of driving (about 4600 miles) before the clutch was totally shot and slipping bad. Yeah you are reading this right my brand new 500 dollar 500hp clutch behind my bone stock L98 was slipping like crazy.
After installing the clutch and on the first let out of the clutch backing it out of the garage, slipping sound and clutch smell. I immediately called Ram clutches and they assured me that this was normal for a "race" clutch and that it should go away in the 1000 mile break in. I was extremely diligent and broke the clutch in for 1000 mile exactly as they said on the paperwork. Long story short, the clutch disk was under sized and when driving the clutch was never in a state of full engagement, meaning the clutch was slipping every drive for almost 5000 miles.
I decided to purchase a factory brank Luk clutch for the car and when I removed the Ram clutch I checked all the measurements and found out the clutch disk was undersized thickness wise. I wrote a huge email documenting all to Ram and they refunded all my money. This season marks the 3rd season with the Luk clutch. I couldn't be happier; it has a stock pedal feel and I do not have the slipping sound/smell anymore.
Here is a video of the slipping sound:
https://www.youtube.com/watch?v=Vs6U50DJZZU
2014-2015 Seasons:
Not much to talk about, fixed the rear intake oil leak and installed a set of Hooker 2055 headers. I was disappointed that with headers, the car did not seem any louder. After that, just enjoyed the car and went to a lot of cruise nights.
2016 Season:
Early in the spring we went out for a Sunday cruse, it was running excellent. Before we ended our cruise, I hit the gas station. Leaving the gas station the car decided to die right as I was about to merge into traffic, for a second I thought it was something I did, I got it to fire up but only would stay running for a second. At this point I was in traffic on the Berlin turnpike. Luckily there was a parking lot about 20 feet away, so I hopped out and had Kim steer as I pushed it to the parking lot to work on it. After doing this and that to get it to run, the car would not stay running long enough for me to get it the 1.5 Miles we were from the house and each restart got harder and harder. I broke down and called AAA. Had the car towed 1.5 miles to the house and once it was off the truck, I tried to start it again, and it ran like a champ.
Knowing this problem was heat related, first thing I tried was the Ignition control module. I pulled it out and brought it to Advance to have it tested. It tested fine. I put it back in but still the car would die once it got hot. After some more checking I figured it had to be the IGN module and replaced it even though the old one tested fine. I bought a new one and sure enough the car was back up to running great even when hot.
When the car broke down, it was 1 month before my wedding. The plan was to drive away from the wedding in the Iroc. Luckily, I'm glad to say the car made it to and from the wedding without a hitch.
From the persuasion from my buzzed groomsmen, I even left a little rubber as we drove away!!!
Couple Wedding pics: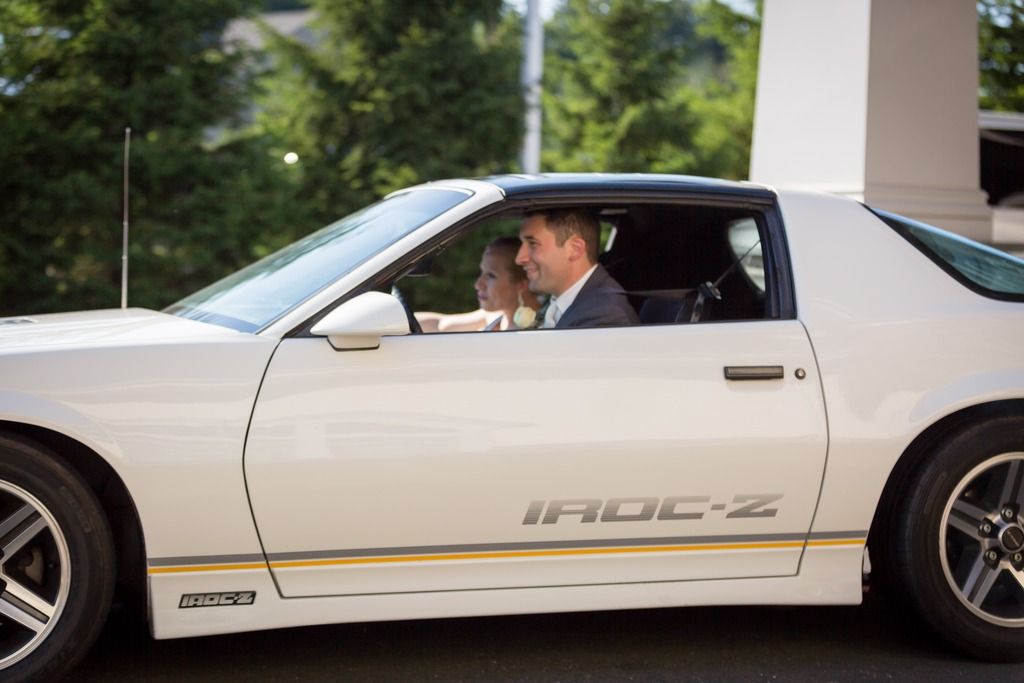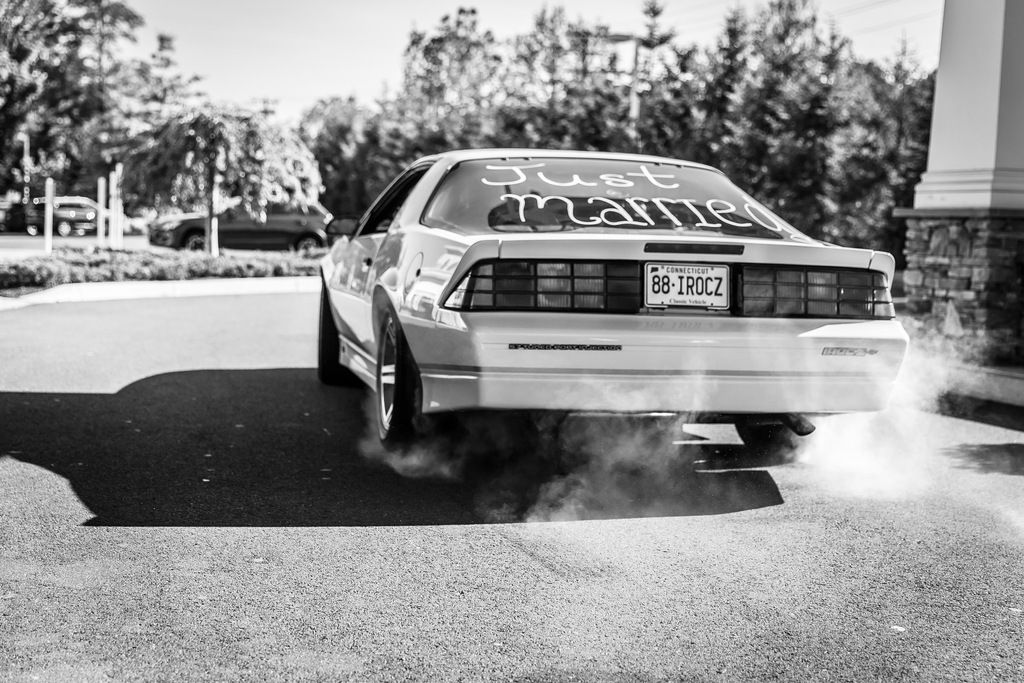 Heres a video, shot in 2 different angles:
https://www.youtube.com/watch?v=XNrq8TKokFU
https://www.youtube.com/watch?v=Rd6umdQTnWw
2017 Season:
Well, it seems like every winter I do a decent sized project on the Camaro to get it closer to completely restored.
Quick story, last year we were at my local town car show and when they were giving out awards they mentioned an Iroc had won, however it was not mine. My wife had gotten very excited for a second thinking we had won, but when she realized it was not us, she told me the only thing preventing us from winning was my interior. She told me that the interior must be done regardless of what it costs and it needs to be done before I do any performance upgrades/engine swaps. She wants to win at least something this year. So, I decided to go all out and purchase the interior parts needed to bring the car to "show quality".
While waiting for my order from classic industries, Ecklers, 1A Auto and Amazon to show up I decided to do a test piece of dying interior plastics.
Cracked and unusable sill panel scuffed with 400 grit and painted 2 light coats with trim black.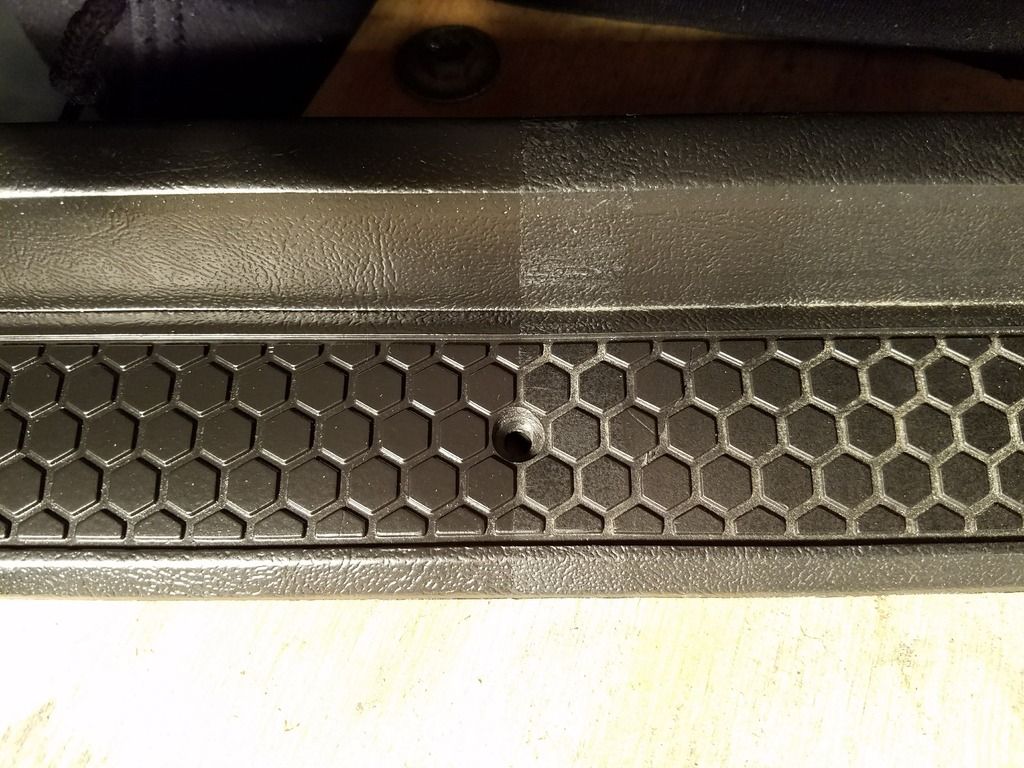 My order from Classic and 1A auto:
New floor mats with the formed passenger side: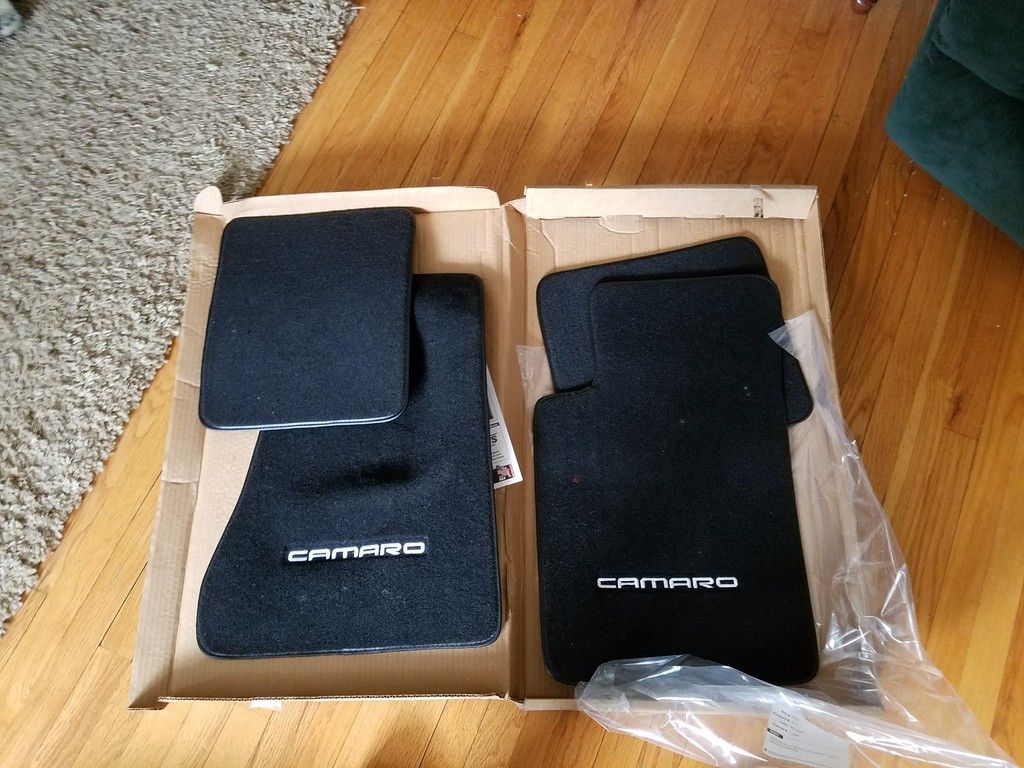 As for seats, I may go with aftermarket Corrbeaus or something but for the time being, I will be installing factory seat covers. When I bought the car, I got a new seat bottom and seat back for the DS seat, which is the only side with ripped bolsters. I bought some hog ring pliers and hog rings and will give it a go as to installing the fabric. I'll probably steam clean them too. If it looks bad, Ill just spend the money on new seats.
Not pictured is also DynaMat that will be installed to hopefully cut down on the tin can sound. I also hope it cuts down on the interior heat in the summer. While the Camaro has working ac, I don't like to use it much as I prefer driving with the windows down!!
4.3.17
Well this weekend I got started on what I thought was going to be the 2 worse parts of this interior re-do, recovering the seats, and pulling the pedal set for the 3rd time to install the new steel bushings.
Drivers side seat OLD: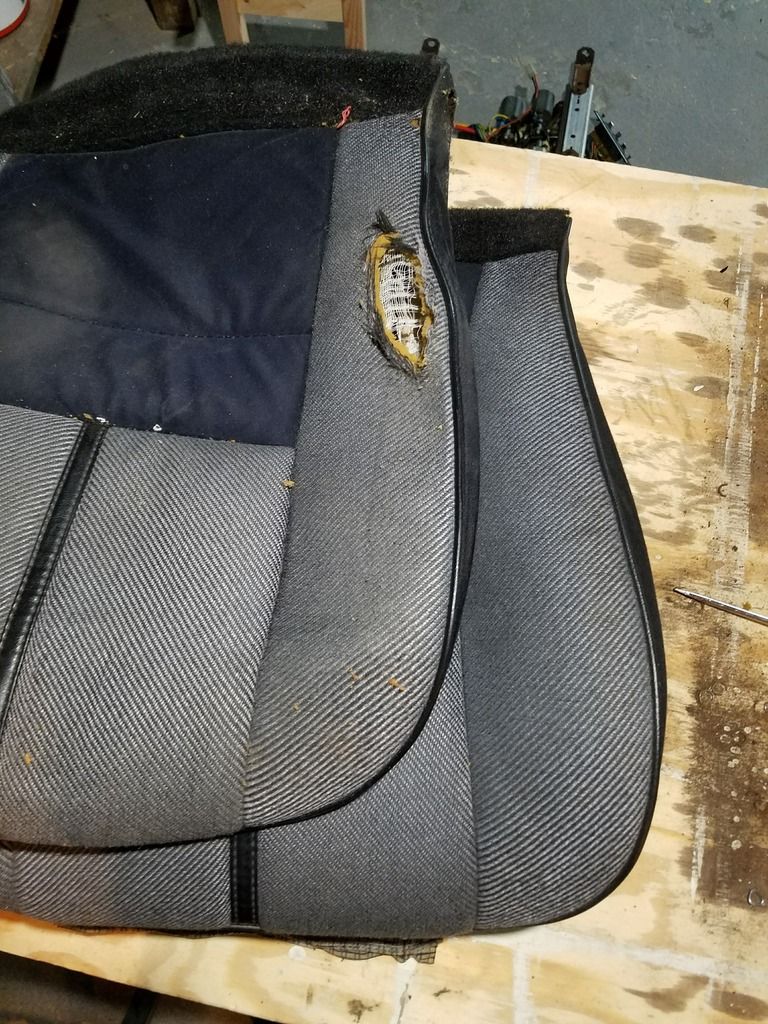 Drivers side seat NEW: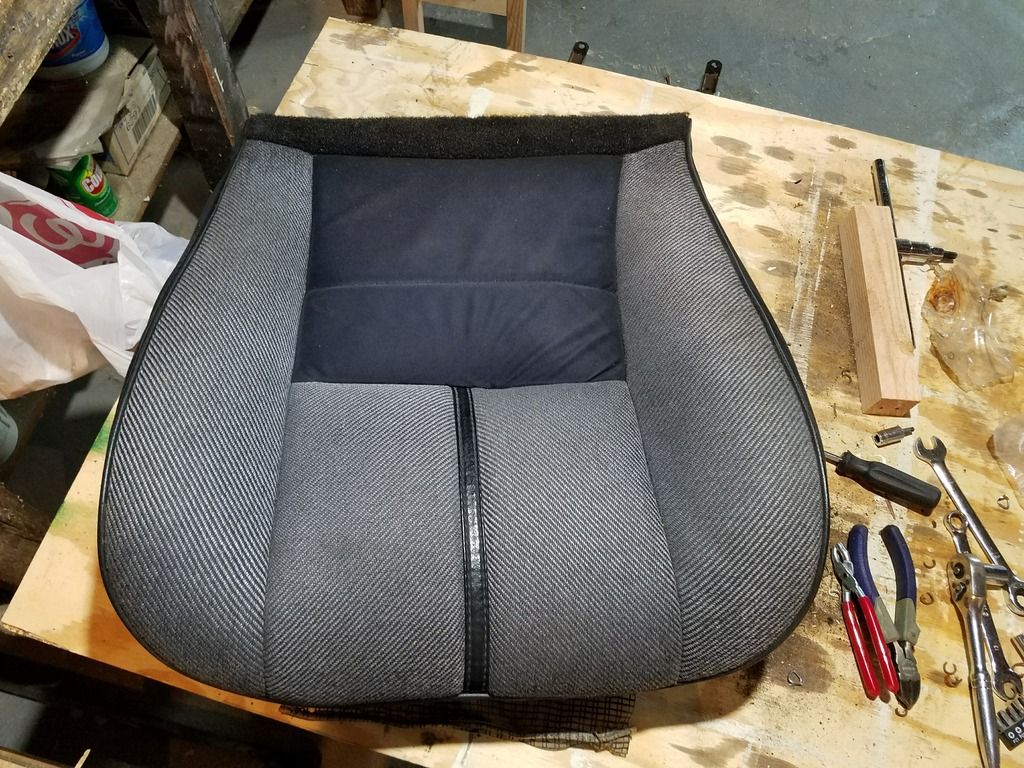 Here are the clutch and brake bushings that were machined for me.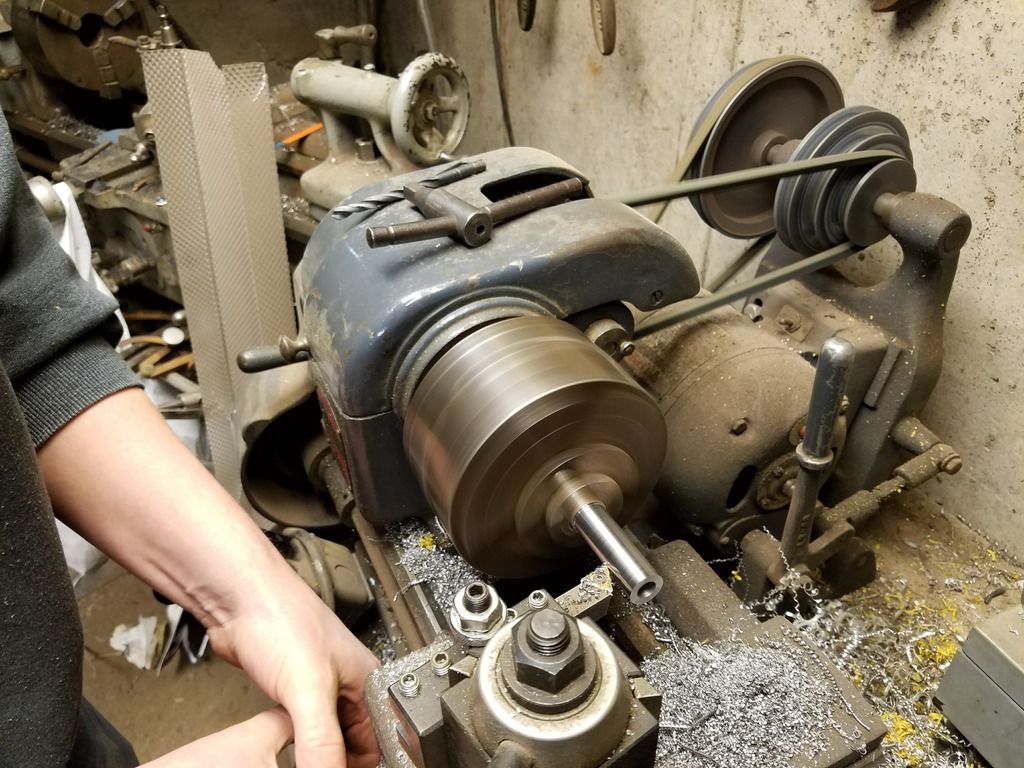 To show just how bad the slop was in my pedals, here is a before video:
https://www.youtube.com/watch?v=ZpV2NenQFBY
After Video:
https://www.youtube.com/watch?v=lqOaTCs0EZ4